Thank you to everyone who has shown support for my little passion project. It grew out of a need to see more goodness in the world. Let's do the work to understand each other better. Someday we'll find it: 🌈 The Rainbow Connection. It'll be up to the lovers, the dreamers and me. 💕
---
💌 Happy Mail
Close friends of mine know that I LOVE ❤️ to send snail 🐌 mail. I'm a casual lurker on the r/penpals subreddit and found a listing for Dorothea and her friends at Phoenix Assisted Care.
This week's Happy Mail goes to Dorothea and her friends at Phoenix Assisted Care located in Cary, NC. A reddit post listed a handful of nursing home residents looking for a pen pal. Each resident mentioned on the post received a greeting card asking them to be a pen pal of mine. I'm looking forward to replies!
---
☀️ Mindfulness Moment
Bring stillness into your day by anchoring your thoughts to your breath.
Mindfulness doesn't require large sweeping gestures, but tiny differences to improve each and every day. How are you improving your well-being today?
---
🌎 Stoicism Spot
Epictetus, born a slave, became one of the Greek fathers of stoicism. In the future, I'll be bringing you some philosophical readings that will calm your mind and encourage you to seek out self-improvement. I highly recommend the "How to Be a Stoic" video above to learn more about the principles of stoicism.
---
🌾 Lavender Fields Forever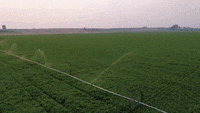 Oakmoss Lavender. I'm enchanted by this scent made by Adorn Chicago. Not only is the owner Lilia a sweetheart, she actually reads the comments in my orders and emails me directly to answer my inquiries! Awesome customer service. Always. To my Chicago friends: shop local and you won't regret it! 👌
Do you have a local business you'd like to give a shout out to? Let me know and I'll make sure to feature it in a future newsletter. 👍
---
😴 Sweet Dreams
To all of those reading this newsletter: Thank you for joining me on this journey to make the world a better place. The purpose of this newsletter is to help people fall asleep easier knowing that there is so much good in this world that we can create together. Remember that you're enough and I love you exactly as you are. 😘
- Krystle